These handmade thinking of you cards are simple to make and are sure to bring a smile to whoever receives them. Plus I have included a free printable card sketch so you can make these for any occasion by changing up the stamps and paper.
We are in the process of starting a Caring Cards ministry at church to send handmade greeting cards to shut-ins each month.  We just want to let them know we are praying for them and thinking of them.  It's always fun to get something in the mail that isn't a bill, right?  So I put some kits together for this card so we can make them at our first meeting.
These cards are based on a card sketch (included further down in this post).  Card sketches are great for sparking creativity.  You just follow the basic design and use the stamps, paper, and embellishments that you want.  You can even use the card sketch as a jumping off point and change things up a bit if you want.
Handmade Thinking of You Cards Supply List
You can use the sketch to make these cards for any occasion by choosing an appropriate sentiment stamp, patterned paper, and embellishments.   For the tutorial below I used
Eastern Palace Designer Series Paper
Eastern Beauty Stamp Set
Linen Thread
Gold Faceted Gems
The tools I used for these handmade greeting cards were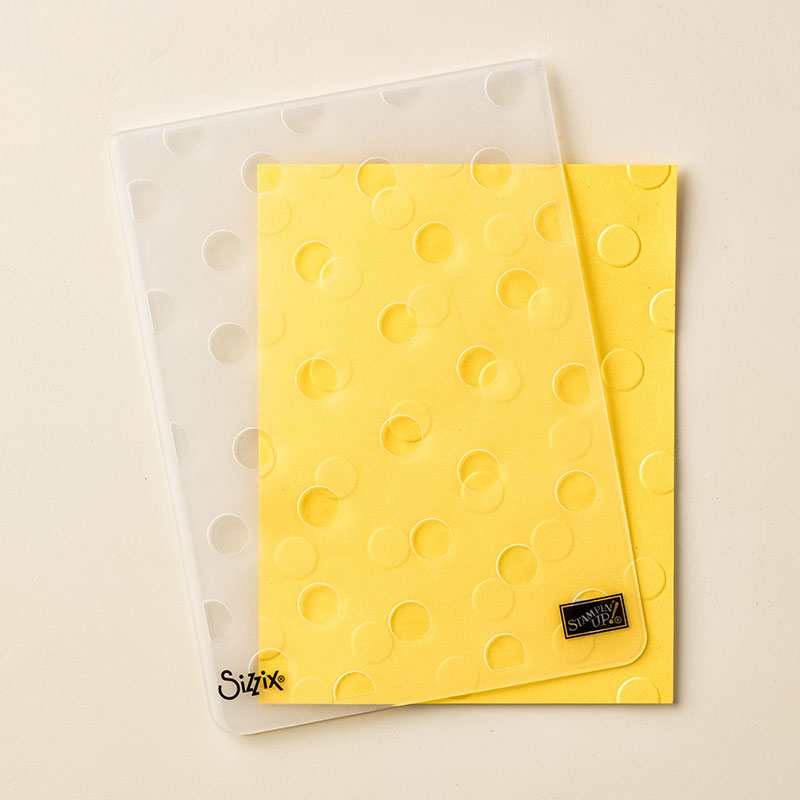 Polka Dot Basics Embossing Folder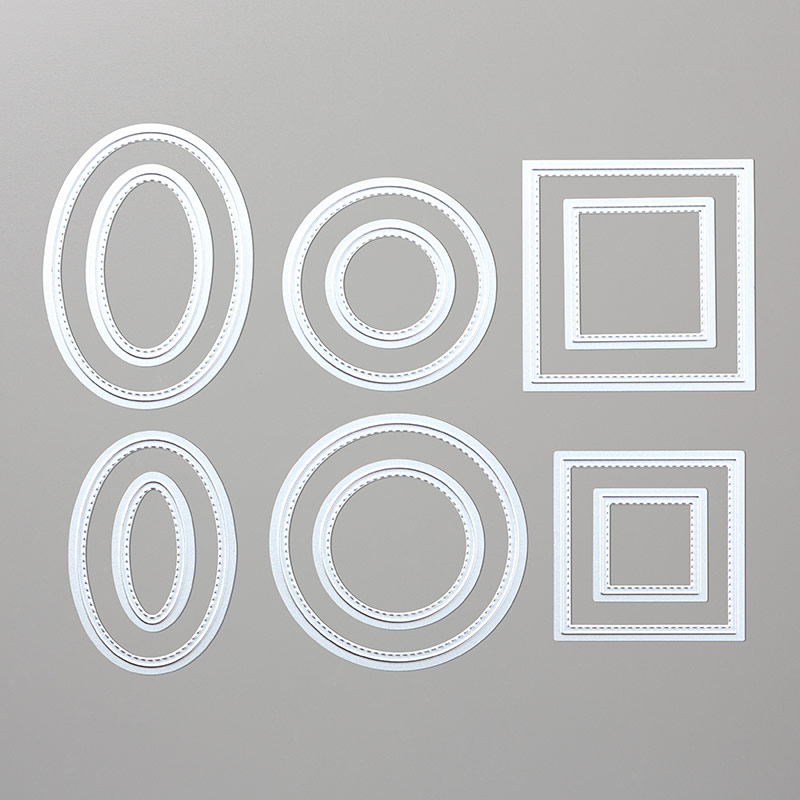 Stitched Shapes Framelits Die Set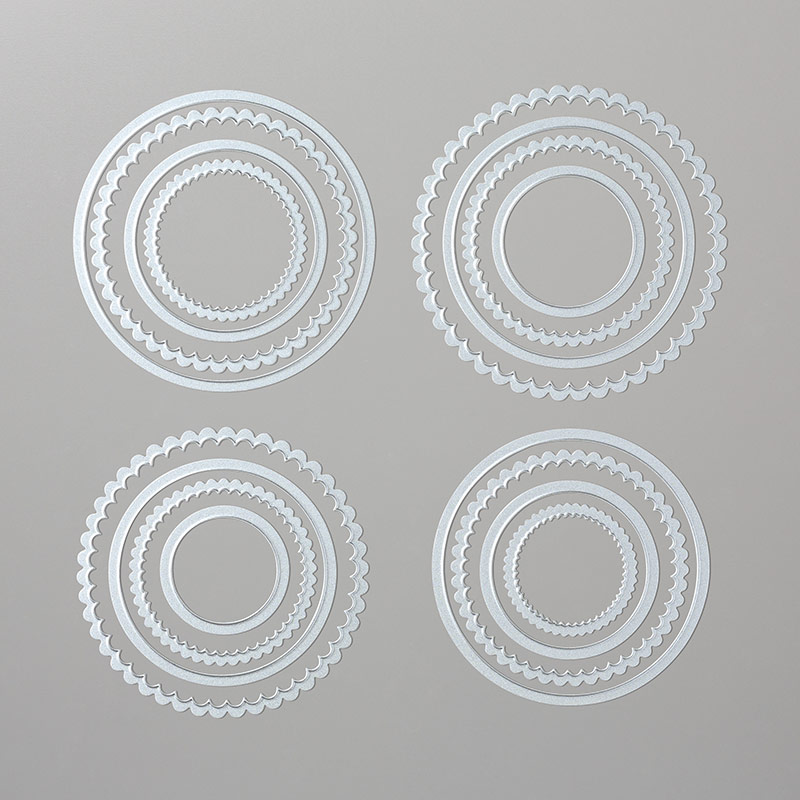 Layering Circles Die Set
✅ Planning on placing a Stampin Up order?  Be sure to check out my current free gift offer on the sidebar!
Handmade Thinking of You Cards Instructions
Cut the paper:
Cut a piece of cardstock to 8-1/2″ x 5-1/2″.  Place the long edge at the top of a scoring board and score at 4-1/4″.  Fold in half to form your card base.  (For this card tutorial, I used the color Dapper Denim.)
Cut a piece of Whisper White cardstock to 4″ x 5-1/4″.
Stamping:
Stamp the sentiment of your choice on a piece of Whisper White cardstock that is at least 2″ x 2″.  For my sample card, I used the Eastern Beauty Stamp Set.
Die Cutting / Embossing:
Using a 2″ Circle Punch or die from the Layering Circles Die Set, cut 2 circles from Designer Series Paper.  You want to use 2 different patterns that color coordinate.  For my sample, I used Eastern Palace Designer Series Paper.
Using the 2-1/4″ scalloped circle die from the Layering Circles die set, cut a scalloped circle from the same color cardstock you used for the card base.
Using the 1-7/8″ stitched circle die from the Stitched Shapes die set, cut out the stamped sentiment.
Put the Whisper White cardstock piece you cut earlier into the Polka Dot Basics embossing folder and run through your die cut machine to emboss it.
Assembling the handmade thank you cards:
Use adhesive to stick the embossed layer to the card base.
Referring to the picture above for placement, adhere the 2 Designer Series Paper circles to the card.
Adhere the stamped sentiment to the scalloped circle.
Place some Fast Fuse adhesive or a glue dot about 1-1/2″ from the bottom center of the card.  Cut 18″ of ribbon, thread, or twine and loop it around pressing into the adhesive.  For this example, I used Linen Thread.
Apply 3 Stampin Dimensionals to the back of the scalloped circle.  Remove the backings and press into the center of the trim.
Add 3 self-adhesive embellishments to your card.  I used Gold Faceted Gems but rhinestones  or enamel dots work too.
 Circles Galore Card Sketch
Here is the card sketch I used to make these handmade thinking of you cards.
I love using card sketches when my creative muse is failing me.  One card sketch can result in an infinite number of card designs just by changing up the paper, stamps, and embellishments.
Want a Printable Version of this Card Sketch?
This one page PDF includes the card sketch, card elements including measurements for all layers, and a picture of a sample card made with the sketch.
I recommend printing this card sketch PDF and keeping it in a card sketch binder.  That way you can look through your binder for ideas anytime you need to make some cards.  I am going to be offering a lot more of these card sketch downloads in the future.
My card sketch PDF files are available for free to all my email subscribers.  Sign up below to unlock the card sketch PDF download link.
Already a member of my mailing list?  No need to sign up again.  This card sketch is also on the Subscriber Exclusive Freebies Page.  Just click on that link and enter the password.  I include the password in your welcome email.
Other examples using this card sketch
Here are some other examples of handmade thinking of you cards that I made with this same card sketch.  I just used different paper and a different sentiment stamp.
This card was also created with the Eastern Beauty stamp set and Eastern Palace Designer Series Paper.  I just used a different color scheme and a diffe
For this card, I used
Pin this Handmade Greeting Card Tutorial for Later:
For more tutorials like this one, be sure to check out the rest of my easy handmade card ideas.
I hope you have enjoyed these handmade thinking of you cards and the card sketch.  Happy crafting!