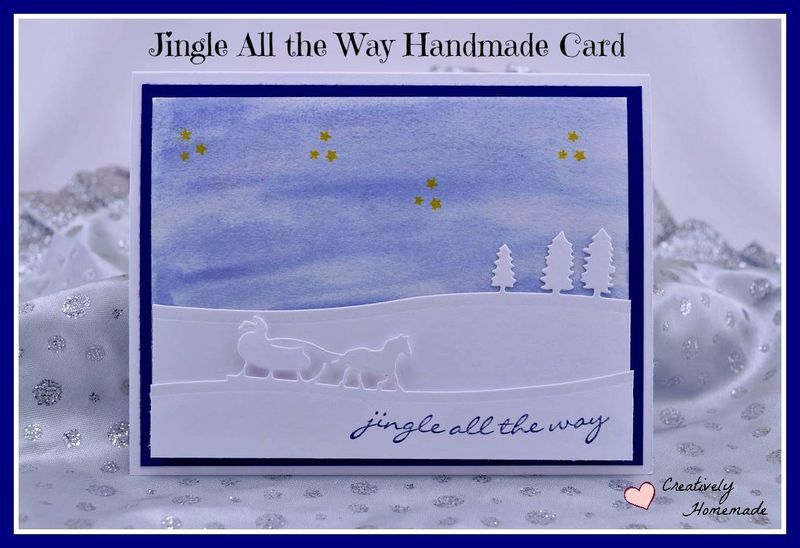 Stampin' Up's 2015 Holiday Catalog went live yesterday. I am so excited! (If you haven't seen the new catalog, you can view it online here.) I have so many project ideas swirling around in my head and can't wait to share them with you in the coming weeks. Today's project is a tutorial for handmade Christmas Cards using the Jingle All the Way Stamp Set and coordinating Sleigh Ride Edgelits Die Set. This is the card I will be sending to family and friends this year.
It is never too early to start on your Christmas cards – especially if you have a ton to make. This card is pretty simple to make, so you will be able to make a lot of them without a whole lot of effort.
**** Please note that when I first posted this card idea, I was a Stampin Up demonstrator.  Stampin Up regularly retires their stamp sets and dies.  
So for retired products, I have included suggestions for alternates you can easily find on Amazon
that would work just as well to make these handmade Christmas cards.
Cardstock in white and dark blue
Watercolor paper
Paper Trimmer
Water Brush
Dark Blue Re-Inker
Tombow X-treme Adhesive
Tree and Sleigh Border Dies
Die Cut Machine
Sentiment Stamp (I used Jingle All the Way)
Mini Star Stamps (alternately you could draw these with a gold gel pen or use sequins!)
Ink Pads (Antique Gold and Navy Blue)
Santa's Sleigh and Reindeer Border Die
Fir Tree Border Steel Die
Inkadinkado Cling Stamps Holiday Greetings
&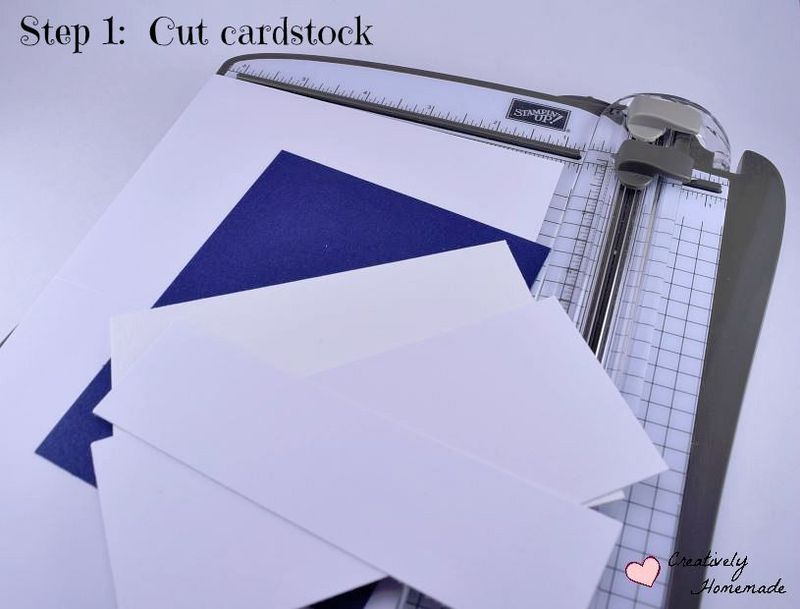 Start by cutting your cardstock. Here are the sizes you will need…
Whisper White Card Base – 5.5″ x 8.5″
Night of Navy Layer – 4″ x 5.25″
Watercolor Paper – 3.75″ x 5″
Whisper White Strip 1 – 1.5″ x 5″
Whisper White Strip 2 – 2.5″ x 5″
The Whisper White cardstock strips will be used to make the sleigh and tree die cuts that you will layer on the bottom of the card.
Score the card base at 4.25″ and fold in half.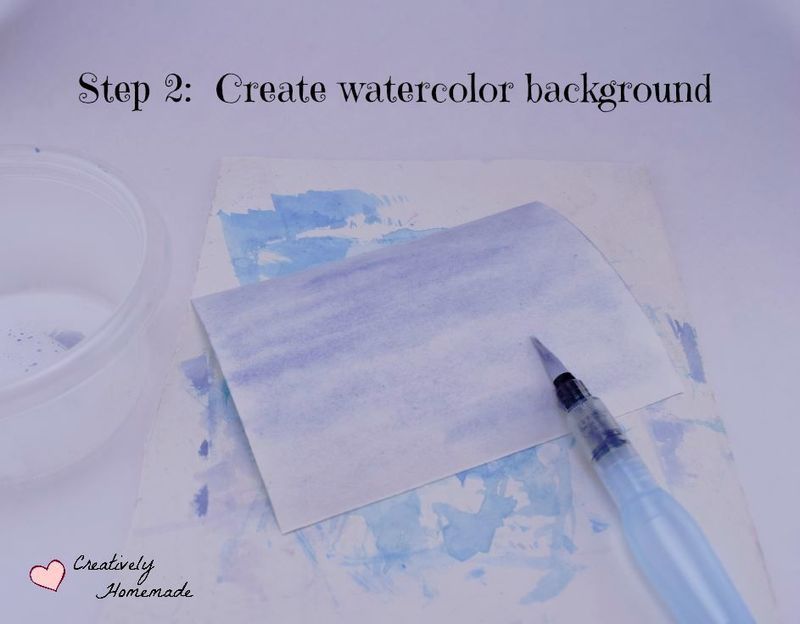 Next you will want to paint your water color paper. Simply squeeze a small amount of Night of Navy re-inker into a small palette or small cup.
Use a Water Brush to brush water all over the water color paper. Orient your paper so it is wider than tall. Then use your Aqua Painter to pick up some of the Night of Navy ink and brush across your paper. Go a little heavier at the top then get lighter as you work your way down the page. You want streaks that are reminiscent of the night sky.
Set aside your watercolor layer to dry. If you want to speed things up, you can use an embossing gun to dry it quickly.
Adhere the Night of Navy layer to your cardbase.
After your watercolor has completely dried, adhere it to the top of the Night of Navy layer. I recommend using Fast Fuse or Tombow X-Treme adhesive at least for this layer. Watercolor paper tends to curl a bit as it dries so the Fast Fuse will ensure that it lays flat on your card.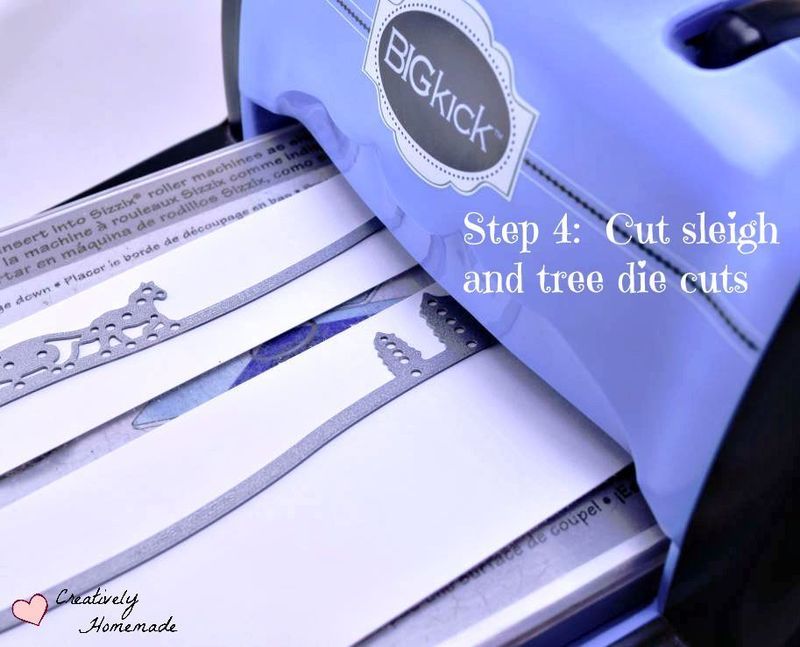 Use the remaining Whisper White strips to die cut the tree and sleigh borders. I positioned mine so that the edgelit die ran just at the top of the cardstock strip. That way they will be different heights when you layer them.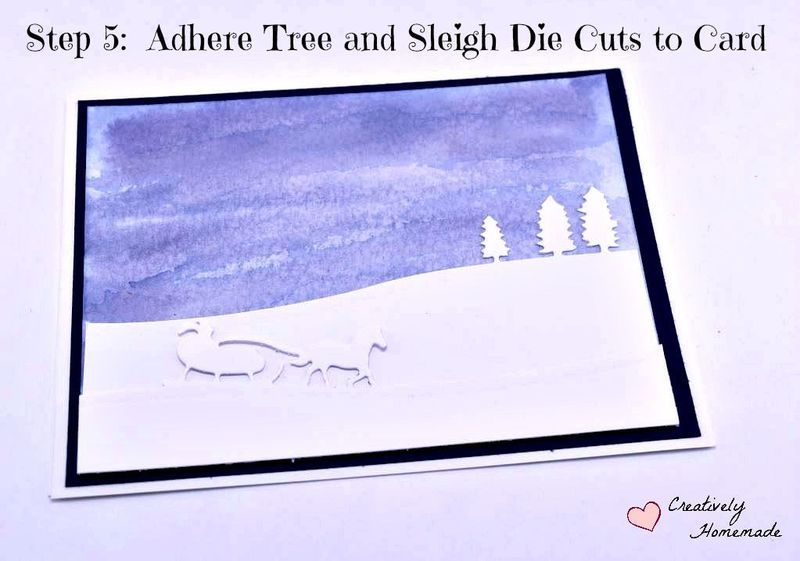 Adhere the tree die cut to the very bottom edge of the watercolor layer. Use foam adhesive to adhere the sleigh die cut over the top of that to give it some depth.
Using Night of Navy ink, stamp Jingle All the Way in the bottom right corner of the card. Using Crushed Curry ink, stamp the stars across the top of the card.
That's all there is to it! These handmade Christmas cards are gorgeous. Your recipients will never know they were so simple to make.
If you have a ton of handmade Christmas cards to make this year, I recommend to make these assembly line style. Do all the cutting at once, do all the watercoloring at once, etc. It will go faster that way because you are only using each tool or supply once.
So tell me… Are you making handmade Christmas Cards this year? When do you usually get started on them?